Sustainability life cycle:
from design to installation, through commissioning and beyond
With sustainability increasingly becoming a strategic pillar for the entire refrigeration sector, today it is vital for every food retail company to ensure the adoption of innovative and technological solutions starting from when projects involving the rollout of new stores openings or retrofit programs are conceived.
In addition to the critical importance that issues such as carbon footprint reduction and energy saving play today, it can be said that the hot topic of sustainability also needs to be taken into consideration in all the different stages of design and implementation of technologies in a food retail store. The ability to provide solutions and services aimed at reducing complexity in system design stage systems and at ensuring simplified installation and fast commissioning are essential in guaranteeing reliable store opening schedules, and will increasingly become a critical success factor for the industry in the future.
Commitment to sustainability and respect for the environment have always been part of CAREL's DNA. In relation to the design of new systems, CAREL can provide comprehensive technical support and high-level consultancy for defining the system's characteristics that best fit specific retail requirements. Thanks to almost 50 years of extensive experience in HVAC/R applications, the company is a leader in sustainable technologies and represents a reliable partner capable of offering a complete solution for all store management and control needs.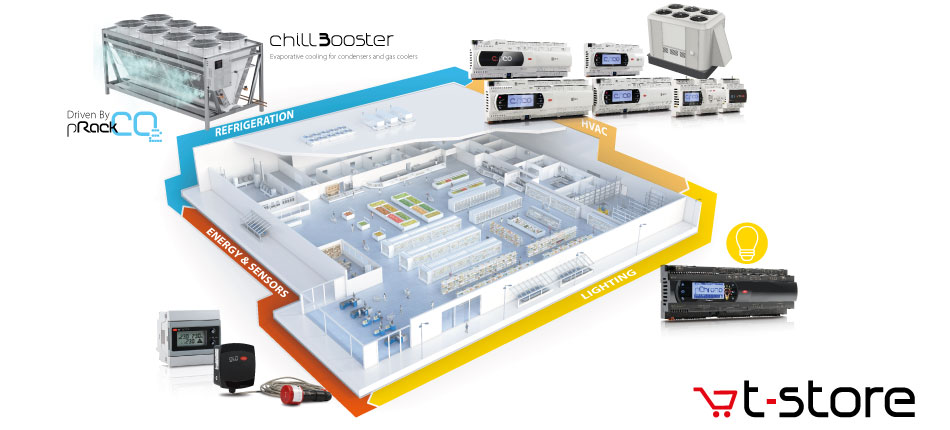 This is the basis for the Total Store Solution (branded as t-Store), the modular and scalable solution that guarantees the highest levels of integration and optimisation of all the different systems typically found in a store, whatever the retail format. More specifically, t-Store is the combined proposal of solutions and services that simplifies synergy between the typical energy-consuming areas to reduce the related operating costs, i.e.:
REFRIGERATION: wide range of control solutions and technological architectures (centralised with controllers for cabinets, condensing units and racks, and decentralised) that, through advanced algorithms and logic, maximise the performance of refrigeration units
HVAC: optimised and centralised management of underfloor heating systems, heat recovery units and air conditioning via specific zone set points and control logic to ensure optimal comfort inside the store
LIGHTING: complete and intelligent zone control of the light fixtures across the store display area, offices and car parks to bring significant reductions in electricity costs
ENERGY METERING: reading and monitoring of electrical parameters and global consumption of the connected loads, so as to monitor demand and avoid critical situations that may generate hidden waste, as well as evaluate any corrective actions to be taken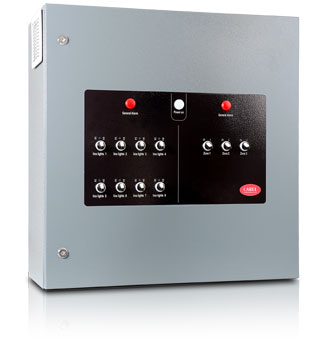 Together with the controller and the final application, t-Store panel finally represents the ideal one-stop-shop proposal for reliable and accurate global management to maximise facility system performance. With HW/SW already on board and high reliability guaranteed by 100% in-house functional testing, CAREL's plug&play and ready-to-use electrical switchboard paves the way for comprehensive system optimisation, simplified setup procedures and quicker commissioning operations.
The ability to perform correct system installation and commissioning in retail applications is indeed as fundamental as the initial choice of the technology to be adopted. Alongside the t-Store solution, CAREL's offering is therefore completed by services that span from commissioning through remote operation and monitoring of the HVAC/R systems, so as to facilitate engagement between the company's service centres and end users. Through its own specialist technical personnel and its network of qualified partners across the world, CAREL can provide full support and assistance for field activities, including commissioning of local supervisors.
Food retail stores are complex areas with great potential for energy savings: for this reason, ensuring the best settings among all the devices and systems is vital to achieve the desired temperature ranges and the proper configuration to allow safe management of alarms, reports in compliance with regulations and optimise system operating costs.
The impact of sustainability does not end with correct commissioning, rather its influence goes beyond the initial setup of HVAC/R systems and extends throughout the entire life cycle of a store. Many value creation opportunities are offered by digitalisation, a transformation that represents a critical and strategic pillar for the entire sector. Digital services can, in fact, offer even more evolved system optimisation possibilities, enabling the food retail industry to move increasingly towards creating a "smart sustainable" ecosystem, through performance analysis between different stores and highlighting the most critical areas in terms of energy consumption.
CAREL subscriptions for dedicated remote system and unit operation, and control services that process data using Internet of Things (IoT) strategies, in fact make it possible for sector operators to optimise their daily activities, reduce the operating cost of refrigerating systems and more efficiently achieve their service, energy, quality and marketing goals. System operating data can provide energy managers additional information on the system's output, allowing assessment of any declines in performance that is essential to implement scheduled maintenance programs.
Now is the time for retailers to make sustainability an essential part of their businesses, thinking more broadly about strategic and transformational plans aimed at generating value creation not only in the immediate future, but also in the long term.