Seamless technology adoption
Sustainability is a key topic in the current social and economic context. Simplicity and immediacy are certainly among the aspects that CAREL most focuses on, both in how new solutions are used and how they are introduced into the different production processes.
Easy customisation and fast implementation are important values when dealing with any request for a tailor-made solution. Different combinations of options allow considerable flexibility and adaptability of the proposed solutions, which can be developed in collaboration with customers, offering all the necessary consulting.

Customisation possibilities involve hardware configurability, but also allow modifications to the logical functions at a software level, an area in which CAREL also has significant expertise and know-how, both regarding thermodynamics and the final application, as can be seen in the iJ family products for food service applications.

Sustainability also means offering complete solutions that can be easily integrated into our customers' production systems. There are many benefits of using advanced systems for digital management and autonomous programming of production process.
The first is certainly a reduction of the variety of products that need to be stored in the warehouse in terms of SKUs (stock keeping units), thus optimising the work of the various company departments, reducing logistics and management complexity.
The possibility of autonomously and flexibly programming the various units on the production line is therefore fundamental in achieving the need to reduce the variety of SKUs.
Naturally, the process concludes with advanced functional tests on each unit and specific tests on each line, so as to verify the different unit configurations and that all the peripherals are working properly. For each test, automatic reports can be generated to ensure the performance of each individual unit and maintain a complete database to meet even the strictest traceability requirements.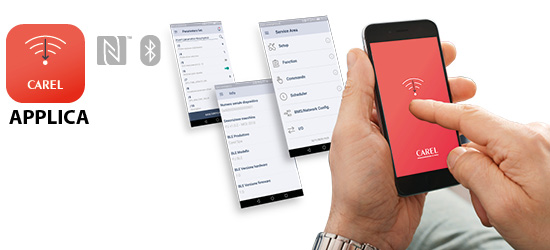 In addition to production, it is important to consider how to optimise the procedures that are carried out once the units have been received in the field.
Specifically, commissioning, configuration, maintenance and troubleshooting can be handled using Applica, the only app designed specifically for technical users to simply and intelligently interact with all CAREL controllers equipped with connectivity options.
More and more attention is now being dedicated to the total cost of ownership of systems. Consequently, cloud portals with specific analysis of real system operating conditions on site make it possible to optimise maintenance costs and keep the equipment working efficiently over time.
These technologies can enable services such as warranty extensions, allowing us to offer end users the maximum peace of mind. Indeed, it is becoming more and more frequent to offer all-inclusive, set price subscriptions that cover fast service and specific spare parts.
Another example of sustainability at CAREL involves the Heosbox units. These are condensing units that integrate CAREL's Heos technology, offering users a complete, tested solution, ready to be coupled to the individual cabinets.
Not only does the Heosbox solution reduce time to market, as the research and development work has already been done by CAREL, but the units are factory-configured for easy commissioning, reducing installation times.

The food retail solutions that benefit from this system are MPX for multiplexed and stand-alone refrigerated showcases and uRack for small condensing units.
All the solutions and advantages described here and offered by CAREL's solutions come under the broad umbrella of sustainability.
Simplification of processes, traceability of actions, availability of integrated solutions and their immediate use in the field make it possible to reduce and often eliminate the design, production and commissioning stages that impact direct and indirect economic, energy and environmental costs.
This approach represents CAREL's new baseline for state-of-the-art controllers, in which vertical solutions for each individual application are accompanied by a common package of software tools to assist customers in every stage of their products' life cycles, with specific focus on common usability.