Energy management
The rise in energy costs and recent regulations together require a reduction in the energy impact of buildings, accelerating the implementation of new, more efficient technologies and the digitisation of systems. For retailers, the challenge begins with the design of the store, especially the refrigeration and air conditioning systems, which have the greatest impact on energy consumption, and then continues with management of the store throughout its life cycle. While the top priority is and must always be food quality, the need to correctly control the installed systems so as to achieve the expected level of energy consumption is becoming more and more important. To achieve these objectives, digitisation is essential, allowing control of the installed assets, verification of the objectives reached and extensive use of best practices. On one hand, there are gaps in terms of competency in the latest control technologies: apps and digital services should ensure both easy interaction and effective analysis of unit performance in the field.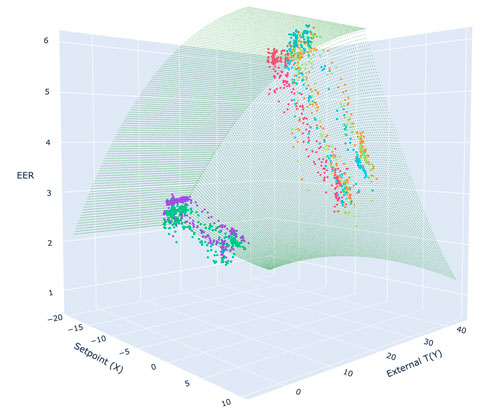 The RED optimise platform integrates machine learning models to automatically identify declines in performance compared to expected behaviour and provide suggestions for maintenance, without the field service technician needing to analyse the unit's logged parameters in detail.
On the other, a cultural evolution is underway in terms of behaviour. While in the past more conservative control was acceptable as long as the desired food storage temperature was met, now the best compromise is being sought at all times.
Even the slightest change to the set points has a significant impact on the energy consumption of both refrigeration and air conditioning systems. To ensure the optimal configuration at all times, actions are being undertaken on several fronts, with targeted training to make technical personnel and store managers in the field aware of the consequences of certain actions and benchmark the most virtuous behaviour. Only through the continuous monitoring of performance, adjustments to parameters and comparisons of energy consumption can objective data be obtained to evaluate the efficiency of every system.

CAREL assists retailers in this process to achieve efficiency, through continuous support for technical training, making its experience available to customers from design through to system management using the RED portal and energy analysis reports.
To verify system performance and areas for improvement and provide optimisation suggestions to achieve maximum system efficiency, these reports include:
system status analysis, with verification of control performance, of the temperature and pressure profiles and trends, and of the performance of the field devices;
identification of corrective actions, with centralised management of the configuration parameters, analysis of the automatic optimisation functions implemented and definition/stabilisation of the temperature control program;
implementation and monitoring of optimised performance with multi-site comparative analyses, application of the optimised control models in less-performing sites, and monitoring of improvements.